Synchronaria "Strike & Run" Debut Album Launch March 8th, 2012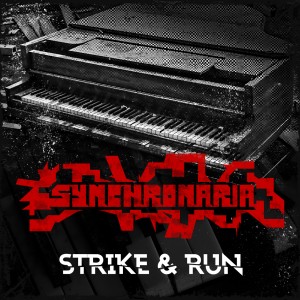 Synchronaria's long awaited Debut Album "Strike & Run" releases March 8th, 2012. The "Strike & Run" mission is to bash listeners & dancers alike over the head with a keyboard and haul ass. Our aim is a different perspective of the Dubstep genre. We are musicians who remain passionate in songwriting. These are not just tunes, but 10 actual dubstep songs with meaning. A refreshing outlook on pushing song structure, hooks, and a statement of our current affairs.
Synchronaria blends in thought provoking lyrics that reflect our revolving day to day grind in life and in love. Building cinematic soundscapes in a melodic fashion, laced w/ futurist vocals, dropping into a heavy sporadic bass state then back into the melody.
D/L the Full Length Album for FREE @ www.synchronaria.com March 8th, 2012 -featuring cover artwork by Salvador Charlie, Logo by Tim McCloskey & Online data courtesy of H.Dot. Hold tight 4 Synchronaria dance/street/wear merch from 9G's. Respect to the collaborating fammo/crew who bring to light & breathe life into this project.
PS. Catch the Official "Strike & Run" Album release/listening party w/ Synchronaria >Thursday March 8th @ Dubscenario @ Sky60 64 North Orange Ave. Downtown Orlando
+ 3.14 Dubshot @ Bullitt Bar Orl.
3.15 Dub101 w/ Figure @ The Vault Gainesville
3.19 WODNB Sessions @ Torque Vintage Lounge Orl
3.22 WODNB Miami Music Week